The wait is almost over.  Tomorrow morning I catch a plane to Sydney to catch Tool live in action at the Entertainment Centre, and then the next day at the Big Day Out.  I doubt I'll be posting again until after the show, and possible not at all for a few days if I can't get and internet connection.  Rest assured though that when I do get back I will post full reviews of the two shows, and possibly some pictures too.Don't forget about the meetup in Sydney.  We'll be meeting after 4pm at JB's Bar and Grill, which is immediately opposite the Entertainment Centre.  If you need some directions, check out this page, which has a map.  Everyone is welcome, and there should also be Toolarmy members coming along.  I'm not sure what time I'll be getting there yet, but it shouldn't be too long after 4.
Keep an eye out for me, I'll be the sporting a recently shaved head, a goatee and a white "Turn Off Your Television" shirt.  Just like this: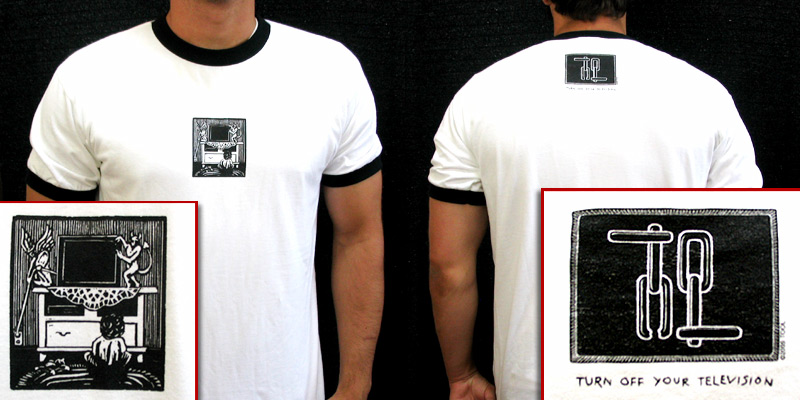 For those of you who haven't been paying attention, there will be no support act for Tool.  Based on this, I'd suggest you don't leave it too late to turn up.  I'm told that getting into the Entertainment Centre is normally pretty painless, but I wouldn't leave it late expecting Tool to start sometime after 9pm.  Personally I'll be heading there at around 8pm, and expect the show to start between 8:30 and 9:00.
See you all tomorrow!