Dan sent me a link to a set of photos from the Puscifer warm ups, I imagine prior to the initial gigs in Las Vegas.  Pictures include shots of Maynard and the band, as well as Milla.
Speaking of Milla, she's holding a free online concert at Vokle with friends Chris Brenner, Matt Skiba (Alkaline Trio), and Danny Lohner to raise money for Sophie's Voice, a Spina Bifida charity.  If you have any loose change left after donating to the recent earthquake relief, consider making a donation!
Kevin sent me an email this morning, and he has a range of Tool and APC collectables he's trying to sell.  For some reason there's also some System of a Down bits & pieces as well.  Here's a photo of the collection: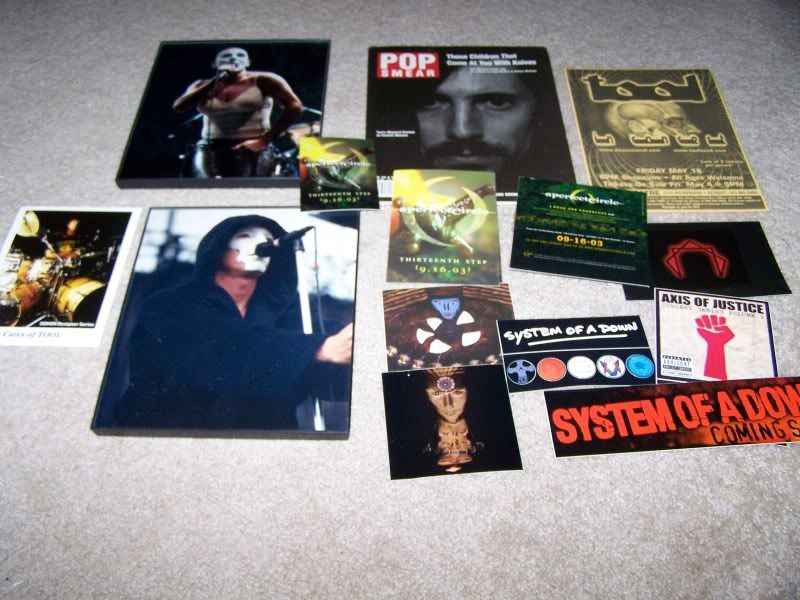 He's asking  US$150 (including shipping to the US) for the lot, and it includes:
Pop Smear May/June 1999 issue with MJK as Charles Manson on the cover
Two 8X10 Glossy photos of MJK
Danny Carey Sonor Drums promo card
APC 13th Step sticker
APC 13th Step postcard
APC "Weak and Powerless" promo Cd
Toolarmy postcard
Tool Detroit May 18, 2001 Handbill
System of a Down sticker set
The real catch here is the issue of Pop Smear, something that is hard to come by these days.  If you are interested in the package, let me know and I'll put you in touch with Kevin.