I can see it as similar to the "eyes" in Egyptian symbology.
"Take the two Eyes of Horus, the black and the white. Take them to your forehead, (so) that they may illuminate your face." - Sethe, 1908/1960, § 33a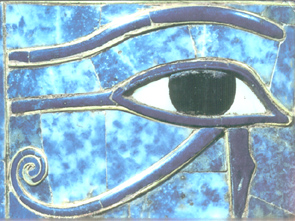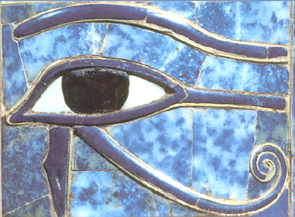 http://www.sofiatopia.org/maat/eyes.htm
the beautiful face : the two Wedjat Eyes
Both complex mythological processes related to the Two Eyes "happen" in the "zep tepy". The Single Eye represented the cosmological, theological, royal register, whereas the Wedjat Eye had anthropological, social and popular connotations. The Single Eye deals with the first and second generation of gods. The Wedjat Eye with the last generation of gods. Before creation, only one sacred Single Eye existed. After creation, Pharaoh's two eyes watched the world. His right, Solar Eye is the Eye of Re (theological), his left, Lunar Eye is the Eye of Horus, or Eye of Thoth (anthropological). Hence, Pharaoh's beautiful face was a balanced expression of all major precreational, mythical "events". In his coronation at Memphis, all constitutive elements of divine kingship came together and "the beautiful face" (epithet of Ptah of Memphis) was established.